Join the Sponsors of MayapurTV!
The Mayapur TV Charity - helping ISKCON devotees
Mrnalini Radhika dasi, UK
Haribol! What would I do without Mayapur TV? My spiritual life had been stuck for quite a while - very little association - and then - in 2010 - I started watching and never looked back! I've been on nearly every morning programme since - bowing down, singing along, attending Srimad Bhagavatam classes and getting more enthusiastic by the day. It gave me that vital association that pushed me to getting more live association, more service and more devotion. I got initated this year; don't think I could have managed to get this far without you, dear Mayapur TV - THANK YOU!
Testimonials
Would you like to share your story of how MayapurTV has helped you? We would love to hear your story - especially if you have a photo (try to stay within about 100 words). E-mail us at info@mayapur.tv
The Mayapur TV Charity - helping everyone
Serving the locals
People spend a lot of time in front of their TV's watching any rubbish to pass the time. Thanks to our MayapurTV sponsors, over 30 thousand local homes around Navadwip can now view ISKCON Mayapur 24/7 via cable TV. And over two million West Bengal viewers can see the main temple aratis on the popular Channel One news channel.

Reaching millions
A powerful way to spiritually uplift millions more with the message of Lord Chaitanya is through an engaging, relevant and inspirational TV channel. There is a lot of viewer support in West Bengal, and we already have some live broadcast output with potential. Donations from viewers enable this valuable work to continue.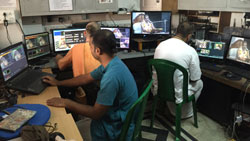 Donors and Subscribers for September 2015
DONATIONS
Suzana Marohnic (Croatia): $10
Sanjay Sharma (Canada): $10
Sreekanth Jakkaraju (USA): $51
Sanjay Sharma (Canada): $10
Paramraj Bhatt (Canada): $40
Pavle Radovcic (Croatia): $50
Chirnji Vaswani (Panama): $108
Jevgenijus Palcevskis (US): $5
Dave Tartakoff (US): $20
Chapygin Grigory (Russia): $10
Christian Hilpert(Germany): EUR 500
(to get Rajapur Jagannatha back online)

MONTHLY SUBSCRIBERS
HH Jayapataka Swami: Eur 77
Russell Pet(US): $15
Ravi Reddi: $50
Julia Burroughs (UK): £40
Sandip Bhatt $30
Michelle Asin (US): $15
Lelihana Pillai: $10
R. Punitharajasingam (UK): £10
Gocha Tserodze (Georgia): $16
Arathy Narayanan (UK): £10
Maria Hattasova (Slovakia): EUR 10
Janis Puhalskis (Latvia): EUR 20
Ankur Sethi: $15
Vienna Thorseth (Canada): $50
Margot Cordua (Belgium): EUR 25
Vinodkumar Dattani (UK): £10
Ilze Makena (Latvia): EUR 10
Barbara Sutton: $15
Mate Rezic (Croatia): $30
D. Ponnuswamy Rajendiran (US): $15
I Dewa Sumitra: $21
Pramod Dakka (US): $30
John Vandelicht (US): $15
Amratlal Divani (UK): £10
Lochan das Thakur das (UK): £10
Vijay Patel (Canada): $15
Sladjana Lindqvist (Scand.) EUR 10
Manisha Parmar (UK): £10
Jahnava Sundari Liberman: $11
Clive Holland (UK): £10
Vladimir Minguillo (UK): £10
Jereme Crow (UK): £10
Krushanaben Dhru : $10
Ross Burroughs (UK): $30
Mauro Maggi (Italy): EUR 10
Danguole Yakobson (US): $30
Mahamantra das(UK): £10
Naresh Velupula $21
Gauracandra Gopinatha (UK): £10
Pushkaraj & Hara (UK): £20
Mr. Pancholi (UK): £10
V.Mistry (UK): £10
R. Chawla (UK): £10
Radha Mohan prabhu (UK): £10
MC & MR Rao (UK): £10
Hetal Patel (UK): £11
N. Sadhoo/Nalini dd (UK): £10
Marion Bell (UK): £10

---
Your idea for utilizing video tape recording systems to broadcast our activities is very nice. It will be very good if you can convince the television stations to carry our program on a regular basis and this equipment if it can be used for this purpose will be very useful. So discuss this matter with the GBC how it can be practically implemented.
Srila Prabhupada letter - 5th January, 1972
---
Click to view all online and offline channels
Abentheuer
AbhayCharan
Ahmedabad
AindraPrabhu
Alachua
Almaty
Amsterdam
Anders
Atlanta
Auckland
Bali
Balramdesh
Baltimore
Bangalore
BangaloreBV
Baroda
Belfast
Berkeley
Berlin
BhagavadGita
BhaktiCenterNYC
BhaktiCharuSwami
BhaktiPurosottamaSwami
BhaktivedantaManor
BhaktiVikasSwami
BhaktivinodeSwami
BhakTV
BhanuSwami
BhanuSwamy
BirKrishnaGoswami
Birmingham
BoxtelNaamhat
Brazil
Bvriksha
Chennai
Chicago
Chicagousa
Chile
Chowpatty
Commercial
CostaRica
Dallas
Delhi
Denver
DevamritaSwami
Dhaka
Donetsk
Dubai
Durban
Festivals
FOLKPgh
Gandhari
GitaNagari
Gourdham
Gurgaon
HillsboroughNC
HispanoTV
Houston
HridayanandaSwami
Hyderabad
IGreece
ISKCONBoston
iskconbotswana
iskconchennai
IskconDesireTreeLive
IskconMidrand
IskconRoma
IskconSandton
ISKCONSarajevo
ISKCONSydney
IskconTokyo
ISKCONWhitefield
JayaGovindaDasa
JayapatakaSwami
Jaymirko
Johannesburg
JuhuMumbai
Kansas
Kaunas
KavicandraSwami
KirtanAcademy
KirtanaMelaTV
KirtanAustralia
KirTanVrajavadhus
Kolkata
KrishnaKshetraDas
KrishnapremaCC
KrishnaRoadNC
KVCC
Lagunabeach
Latvia
Leicester
Ljubljana
LokanathSwami
London
LosAngeles
Ludhiana
Madurai
MaduraiMain
MahanidhiSwami
MahatmaDas
Malaga
Malaysia
Manchester
Mantralogy
Mauritius
MayapurTV
Mediarama
MexicoCity
MI
Nairobi
Newcastle
NewGovardhana
NewJersey
NewOrleans
NewVrindavan
NewYork
Nirantara
Noida
Pakistan
Panama
PandavaSena
Paris
Peru
Philadelphia
Phoenix
Pittsburgh
Portland
PrabhupadaTV
Pune
Punjabibagh
Radhadesh
RadhaGovindaSwami
RajapurJagannatha
RavindraSvarupa
Redbridge
Russia
SacinandanaSwami
Sacremento
Santiago
SanJose
SankarshanDas
Scotland
ShyamChandra
SiliconValley
Singapore
Sofia
TheJapaRoom
ThunderBay
Toronto
TowacoNJ
Tribhangananda
Trinidad-Tobago
Udhampur
Ujjain
Uruguay
Vancouver
VarnasramTV
VedavyasapriyaSwami
VIHE
VillaVrindavana
Vilnius
VrindavanDham
vvd
Washington
WindyCity
WorldHolyNameDay
Zagreb
---
ISKCON Websites well worth visiting
Dandavats
ISKCON.org
GBC
Devotee Events
Krishna.com
Prabhupadavani
Prabhupada.com
Vanipedia
IskconDesireTree
Prabhupada.net
Vedabase
Devotee Match
Devotee Jobs