---
Those who are trying their best to keep intact the flow of service to Sri Mayapur will be considered the benefactors of the future world of Vaishnavas..
Bhaktivinoda Thakur from Sajjana-Toshani 12/1
---
MayapurTV is funded by viewers like you
So join in and share your happiness with others
Testimonials
Would you like to share your story of how MayapurTV has helped you? We would love to hear your story - especially if you have a photo (try to stay within about 100 words). E-mail us at info@mayapur.tv
Donors and Subscribers for May 2016
DONATIONS
Paramraj Bhatt: $30
Prakash Desai: $108
Margot Cordua: EUR 25
Sujata Debata: $20
Denis Aleric: £ 10
Sumon Raj Roy: £ 10
Mridu Easy: £20
Hinal Fatania: $10
Santini Jeyabalan: $30
Pavle Radovic: $20
Jayashree Rao: $108
Varsha Nursee: EUR 10
Tapos Kumar Acharjee: EUR 10

INSTAMOJO:
(Listing amounts above Rs 501 only)
Coming...

MONTHLY SUBSCRIBERS
HH Jayapataka Swami: Eur 70
Mayapur Madhava (UK): £5 Vraja Sundari Keilman: EUR 108
Julia Burroughs (UK): £40
Maria Perkins (UK): £ 5
Russell Pet (US): $30
Mauro Maggi (Italy): EUR10
Mahamantra das(UK): £10
Naresh Velupula $21
Krushanaben Dhru : $10
Malini Nitai dasi (UK): £5
Ross Burroughs (UK): $30
Danguole Yakobson (US): $30
Jereme Crow (UK): £10
Clive Holland (UK): £10
Jahnava Sundari Liberman: $11
Vijay Patel (Canada): $15
Amratlal Divani (UK): £10
Pramod Dakka (US): $30
Lochan das Thakur das (UK): £10
John Vandelicht (US): $15
Sulabh Agarwal (UK) £10
D. Ponnuswamy Rajendiran (US): $15
I Dewa Sumitra: $21
Laghu Bhagavatamrita das (US): £108
Ilze Makena (Latvia): £30
Barbara Sutton: $15
Michael Anthony Latham: $10
Vinodkumar Dattani £10
Ravi Reddi: $50
Gocha Tserodze (Georgia): $16
Maria Hattasova (Slovakia): EUR 10
Janis Puhalskis (Latvia): EUR 20
Ankur Sethi: $15
Arathy Narayanan (UK): £10
Michelle Asin (US): $15
Lelihana Pillai: $10
Sandip Bhatt: $30
Kurtz Simonsen: £20
Deepak Khullar £10
Manisha Parmar (UK): £10
Sladjana Lindqvist (Scand.) EUR 10
Gauracandra Gopinatha (UK): £10
Pushkaraj & Hara (UK): £20
Mr. Pancholi (UK): £10
V.Mistry (UK): £10
R. Chawla (UK): £10
Radha Mohan prabhu (UK): £10
MC & MR Rao (UK): £10
Hetal Patel (UK): £30
N. Sadhoo/Nalini dd (UK): £10
Marion Bell (UK): £10
S Nayani Sarvajna Krishna (UK): £11

Expenditure summary for May 2016:
INTERNATIONAL INTERNET BROADCAST EXPENDITURE:
£51.16 Primcast (shoutcast server - for 1 year)
£20.56 Dellmont Sarl (international calls)
£28.56 Hosthatch storage server
£7.04 Hosthatch storage server
£4.82 Adhouse, s.r.o.(node server)
£41.82 1&1 Internet Ltd. (hosting package)
£108 Rapidswitch server
Sub Total: £261,96
SRI DHAM MAYAPUR BROADCAST EXPENDITURE:
Rs 56,960 - 8 x Devotee broadcast maintenance
Rs 1,240 - Telephone Bill
Rs 640 - carpenter putting locks on cupboards
Rs 13,050 - 2x2Tb external Hard drives
Rs 8,000 - Mayapur monthly internet bill
Rs 14,740 - repairing lcd-screens on three canon cameras
Sub Total: Rs 94,630+ £261,96 = £1,055.74 + £261,96 = £1317.70
Total Expenditure for May 2016: £1317.70
Total Income for May 2016:
Instamojo Rs Coming = £???
Paypal: £896.22
Total: 896.22+???+230=£1126.22
(Actual income is less due to Paypal taking a percentage of all donations)
Many thanks to all the devotees involved for making MayapurTV on internet and cable possible - Hare Krishna
---
Your idea for utilizing video tape recording systems to broadcast our activities is very nice. It will be very good if you can convince the television stations to carry our program on a regular basis and this equipment if it can be used for this purpose will be very useful. So discuss this matter with the GBC how it can be practically implemented.
Srila Prabhupada letter - 5th January, 1972
---
The Mayapur TV Charity - helping everyone
Serving the locals
People spend a lot of time in front of their TV's watching any rubbish to pass the time. Thanks to our MayapurTV sponsors, over 30 thousand local homes around Navadwip can now view ISKCON Mayapur 24/7 via cable TV. And over two million West Bengal viewers can see the main temple aratis on the popular Channel One news channel.

Reaching millions
A powerful way to spiritually uplift millions more with the message of Lord Chaitanya is through an engaging, relevant and inspirational TV channel. There is a lot of viewer support in West Bengal, and we already have some live broadcast output with potential. Donations from viewers enable this valuable work to continue.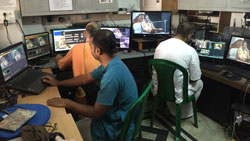 ---
ISKCON Websites well worth visiting
Dandavats
TOVP
Prabhupada Connect
Sannyasa Candidates
ISKCON.org
ISKCON Bangalore
GBC
Devotee Events
Sri Dham Mayapur
Krishna.com
Prabhupadavani
Prabhupada.com
Vanipedia
IskconDesireTree
Prabhupada.net
Vedabase
Devotee Match
Devotee Jobs
Vaishnava Care