---
Those who are trying their best to keep intact the flow of service to Sri Mayapur will be considered the benefactors of the future world of Vaishnavas..
Bhaktivinoda Thakur from Sajjana-Toshani 12/1
---
MayapurTV is funded by viewers like you
So join in and share your happiness with others
Testimonials
Would you like to share your story of how MayapurTV has helped you? We would love to hear your story - especially if you have a photo (try to stay within about 100 words). E-mail us at info@mayapur.tv
Your idea for utilizing video tape recording systems to broadcast our activities is very nice. It will be very good if you can convince the television stations to carry our program on a regular basis and this equipment if it can be used for this purpose will be very useful. So discuss this matter with the GBC how it can be practically implemented.
Srila Prabhupada letter - 5th January, 1972
---
The Mayapur TV Charity - helping everyone
Serving the locals
People spend a lot of time in front of their TV's watching any rubbish to pass the time. Thanks to our MayapurTV sponsors, over 30 thousand local homes around Navadwip can now view ISKCON Mayapur 24/7 via cable TV. And over two million West Bengal viewers can see the main temple aratis on the popular Channel One news channel.

Reaching millions
A powerful way to spiritually uplift millions more with the message of Lord Chaitanya is through an engaging, relevant and inspirational TV channel. There is a lot of viewer support in West Bengal, and we already have some live broadcast output with potential. Donations from viewers enable this valuable work to continue.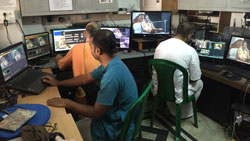 ---
ISKCON Websites well worth visiting
Dandavats
TOVP
Prabhupada Connect
Sannyasa Candidates
ISKCON.org
ISKCON Bangalore
GBC
Devotee Events
Sri Dham Mayapur
Krishna.com
Prabhupadavani
Prabhupada.com
Vanipedia
IskconDesireTree
Prabhupada.net
Vedabase
Devotee Match
Devotee Jobs
Vaishnava Care