---
Those who are trying their best to keep intact the flow of service to Sri Mayapur will be considered the benefactors of the future world of Vaishnavas..
Bhaktivinoda Thakur from Sajjana-Toshani 12/1
---
MayapurTV is funded by viewers like you
So join in and share your happiness with others
Testimonials
Would you like to share your story of how MayapurTV has helped you? We would love to hear your story - especially if you have a photo (try to stay within about 100 words). E-mail us at info@mayapur.tv
Donors and Subscribers for December 2015
DONATIONS
Pavle Radovcic (Croatia): $65
Astrid Walter (Germany): EUR 10
Alok Khode (Pune, India): $10
Margot Cordua (Belgium): EUR 25
Sanjay Sharma (Canada): $21
Maria Hattasova (Slovakia): EUR 10
Doyal Govinda (Germany): EUR 31.05
Meena Luther (Birmingham): £108
Ramola Chauhan (South Africa): $30
Matej Gustin (Slovenia): EUR 50
Shobha Parekh (USA): $108

MONTHLY SUBSCRIBERS
HH Jayapataka Swami: Eur 77
Julia Burroughs (UK): £40
Sandeep Joshi £10
Mahamantra das(UK): £10
Naresh Velupula $21
Krushanaben Dhru : $10
Ross Burroughs (UK): $30
Danguole Yakobson (US): $30
Jereme Crow (UK): £10
Clive Holland (UK): £10
Jahnava Sundari Liberman: $11
Vijay Patel (Canada): $15
Amratlal Divani (UK): £10
Pramod Dakka (US): $30
Lochan das Thakur das (UK): £10
John Vandelicht (US): $15
Sulabh Agarwal (UK) £10
D. Ponnuswamy Rajendiran (US): $15
I Dewa Sumitra: $21
Ilze Makena (Latvia): EUR 10
Barbara Sutton: $15
Michael Anthony Latham: $10
Vinodkumar Dattani £10 Ravi Reddi: $50
Gocha Tserodze (Georgia): $16
Maria Hattasova (Slovakia): EUR 10
Janis Puhalskis (Latvia): EUR 20
Ankur Sethi: $15
Arathy Narayanan (UK): £10
R. Punitharajasingam (UK): £10
Michelle Asin (US): $15
Taneja Family $20
Lelihana Pillai: $10
Sandip Bhatt $30
Deepak Khullar £10
Manisha Parmar (UK): £10
Sladjana Lindqvist (Scand.) EUR 10
Gauracandra Gopinatha (UK): £10
Pushkaraj & Hara (UK): £20
Mr. Pancholi (UK): £10
V.Mistry (UK): £10
R. Chawla (UK): £10
Radha Mohan prabhu (UK): £10
MC & MR Rao (UK): £10
Hetal Patel (UK): £11
N. Sadhoo/Nalini dd (UK): £10
Marion Bell (UK): £10
Mayapur Madhava prabhu: (UK): £5

Expenditure summary for December 2015:
INTERNATIONAL INTERNET BROADCAST EXPENDITURE:
£6.92 Hosthatch storage server
£27.65 Hosthatch storage server
£139.35 Wowza server software upgrade
£20.16 Professional Audio Cables
Sub Total: £194.08

SRI DHAM MAYAPUR BROADCAST EXPENDITURE:
6 x Devotee broadcast maintenance Rs.42,370/- (slightly up due to kartik broadcasts)
HP Printer servicing = Rs.2,100/-
Video editor (Siliguri promo) charge = Rs.2,000/-
£480.60 Professional sennheiser radio mike
(During Evening Arati the fixed microphones cannot pick-up the instruments or response. An 'audio' devotee will move the sennheiser around with the kirtan from February. Especially important as 3 million West Bengal homes now receive MayapurTV on cable. This is happening because of MayapurTV's faithful donors)
Sub Total: Rs 46,470 + £480.60 = £475 + £480.60 = £955.60

Total Expenditure for December 2015: £1149.60
Total Income for December 2015: £926.19
(Actual income is less due to Paypal taking a percentage of all donations)



---
Your idea for utilizing video tape recording systems to broadcast our activities is very nice. It will be very good if you can convince the television stations to carry our program on a regular basis and this equipment if it can be used for this purpose will be very useful. So discuss this matter with the GBC how it can be practically implemented.
Srila Prabhupada letter - 5th January, 1972
---
The Mayapur TV Charity - helping everyone
Serving the locals
People spend a lot of time in front of their TV's watching any rubbish to pass the time. Thanks to our MayapurTV sponsors, over 30 thousand local homes around Navadwip can now view ISKCON Mayapur 24/7 via cable TV. And over two million West Bengal viewers can see the main temple aratis on the popular Channel One news channel.

Reaching millions
A powerful way to spiritually uplift millions more with the message of Lord Chaitanya is through an engaging, relevant and inspirational TV channel. There is a lot of viewer support in West Bengal, and we already have some live broadcast output with potential. Donations from viewers enable this valuable work to continue.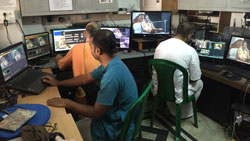 ---
ISKCON Websites well worth visiting
Dandavats
TOVP
Prabhupada Connect
Sannyasa Candidates
ISKCON.org
ISKCON Bangalore
GBC
Devotee Events
Sri Dham Mayapur
Krishna.com
Prabhupadavani
Prabhupada.com
Vanipedia
IskconDesireTree
Prabhupada.net
Vedabase
Devotee Match
Devotee Jobs
Vaishnava Care